I'll give you a minute to catch up on Part 1 if you need it………….OK, so we arrived in Connecticut via the Cross Sound Ferry , found our car below deck, waited our turn to disembark and set out on the highway for Maine!!!!!
It was so nice to take the ferry…..we could stretch our legs, soak up some sunshine, breathe in the salt air, feel the wind in our faces, and enjoy one another's company.  The weather was beautiful so we spent the majority of the 80-minute ride on the top deck taking in the sights.  I realized as we rode that taking the ferry levels the playing field of travelers…..how so, you ask?  Well, there's no first class on the ferry.  Everyone travels at the same speed; everyone's vehicle, if they brought one, is below deck so there's no posturing; you all have access to the same concessions with no reservations; and everyone arrives at the same time!  It's kind of nice.
In addition to enjoying the scenery, I enjoyed people-watching and listening to snip-its of the conversations of other travelers.  There were people who were obviously commuting for work, other vacationers, folks out for a day of fun with their grand kids, a group of folks travelling by motorcycle who were obviously enjoying the time for face-to-face conversation and the common denominator was the everyone looked pretty darn relaxed.  I wish I could travel by ferry more often!
While enjoying the ride, I also had time to slow down and think – without worrying if we were going to miss our next turn or find the right route.  For a while I was mesmerized by the wake behind the boat and realized that memories are like that wake.  When events, good or bad, are directly behind you they're still obvious – you can almost see them like the distinct pattern in the water the boat has made.  But as time passes and you get further away from the event(s), the edges blur a little – you can still see them in your mind, but the edges become fuzzier and they begin to blur into other past events.  And when you are far enough away, you can no longer see them.  You know you were once there, but the evidence is gone.  I got to thinking how handy that is – especially when the events are not-so-pleasant ones; but the sad thing is it happens with the happiest of memories too.  You know you were there but you can no longer remember all the details and you can no longer see the evidence of them……but in the end, I concluded that it all balances out and that although all memories, happy or sad, fade it doesn't change the fact that we were there and that the wake of the best memories stays with us, even if we can no longer see it!
This slideshow requires JavaScript.
Anyhooo……..not surprisingly, I digress!
Back to the trip….at some point, after driving for a while through Connecticut, I needed a rest stop and we got off the highway.  We drove for a little bit and passed a DSW – you know, the shoe store.  I'm sure it seems strange that I mention a shoe store in the midst of this post; but just that morning before we left the hotel to catch the ferry, Jeff had to say a sad goodbye to his favorite flip flops.  He reluctantly left them in the trash can as we rolled our suitcases out the hotel room door.  Those flip flops had served him well for 3 or 4 years and he was sad not to have them for the duration of trip.  So after we had our potty break, I suggested we go into DSW to look for some replacement flip-flops.  I could only imagine how badly his feet needed to be liberated from the Vans he wore.
On our way through the sliding doors into DSW, Jeff looked a bit forelorn, like Eeyore…..but amazingly he found exactly the same brand and style of flip-flops that he'd discarded just hours before!!!  He IS Even Steven! Let me tell you, this NEVER happens to me.  And I'm shocked that after 3 or 4 years he was able to find an exact replacement.  But on the way out the door, Eeyore was gone and there was a big smile on Jeff's face!  Mission accomplished.
Bladders empty and feet free, we got back on the road determined to make no more stops until we reached the state of Maine.  We were both expectantly awaiting our arrival at the next destination – Red's Eats in Wiscasset. On our last trip to Maine – for our 10th anniversary back in 2003 – we ate at Red's on the last day and we vowed that we would return!  And although it took 12 years, we were headed there next!  Our bellies were getting empty and our our excitement was mounting.  You see, Red's Eats makes THE BEST lobster rolls ever!!!!  I can be a stubborn girl at times, but often I come around to someone else's way of thinking with enough persuasion.  On this matter you can debate me all you want , but if you think anyone makes a better lobster roll than Red's Eats you are wrong!  Period.  Case closed.  No more to be said.
OK, maybe a little more to be said about Red's.  The line is usually long and Day 4 of our trip was no exception.  Below are some photos and tweets from my time in the line!
"Words cannot express how flippin' excited I am right now…."
"Quivering with excitement…."
"Feeling sorry for the people eating across the street…."
"Considering hurting the people in front of us in line….I'm sure they're perfectly nice people, but they're standing between me and my lobster roll…."
We waited patiently….or not so patiently….for our turn.  And when we were just a few people from the front of the line, I went around back to get us a table on the deck.  As I waited for Jeff to arrive with our food, I drooled a little while looking at what other people were eating.  Fried clams, lobster rolls – some with melted butter and some with mayo, fish and chips, crab cakes….the list is endless.  While I peeked around not-so-subtly at other people's food, it began to drizzle.  But there are umbrellas over the tables so I wasn't worried.  Jeff came around the corner and asked if I wanted an umbrella from the car, which was parked just up the hill from Red's. I said, "sure," and was glad for that decision when the rain picked up a bit.  Just as Jeff arrived with the umbrella, our number was called and the sky opened up and started to dump rain on Wiscasset and on us.  He grabbed our food (which they had lovingly packed in to-go containers even though we had indicated we would eat out back) and we ran for the car.
This slideshow requires JavaScript.
We were soaked, but thrilled as we ate.  We shared an order of fried clams and we each got a lobster roll.  O…….M…….G…….we were in heaven.  The fried clams were huge and juicy and sweet……mmm mmm mmm.  But the lobster rolls were the stars of the show.  Each sandwich contains more than one whole lobster that has been cooked with precision and chilled until it is perfection on a buttery, toasted bun.  Then, as if the lobster needs anything more, the lobster rolls are served with either drawn butter or mayo – we got one of each and shared.  There wasn't much conversation going on in the car as we ate, but there were a few mmm's and ah's and yeah's – what Jeff and his buddies would call "audible eating!"
When we finished our amazing lunch/dinner (linner?), we wiped off our hands and arms, wiped as much of the butter off the center console of the car as possible and pointed the car in the direction of Portland, which would be our home-away-from-home for the next two nights.  We made one quick stop to buy some tiny, flavorful Maine blueberries for our breakfast the next morning and arrived in Portland in no time.
We checked into the hotel and were pleasantly surprised to be upgraded to a suite.  The room was modern and spacious and clean and we were sure it would be a fine home for a few days!  After a bit of unpacking, we decided to stroll around Portland for a while to work off some of the food we had eaten.  After a bit of strolling, we would up at The Thirsty Pig for some beers and WiFi.  I spent some time making notes about the first few days of our trip and downloading pics off my camera while Jeff surfed the web.  It was a mellow end to a mellow day.
This slideshow requires JavaScript.
Day 5 – I awoke in our spacious room to the sound of Jeff coming through the door – he went and picked up a Starbucks' coffee for me….the man knows the way to my heart.  I brushed my teeth, scrounged up some clothes, threw on a hat and we left to explore Portland….it was a No-Makeup Monday, only it was Thursday! We had a great time being out of the car, wandering through shops, gazing out at the water and enjoying our time alone together.  Of course, we had to make a quick stop at Holy Donut to try the donuts Jeff had read about.  Jeff ordered a Cheddar Bacon Donut – yes, you read that right – and I ordered a Sweet Potato Ginger donut, which I ended up sharing with Jeff.  It was delish, but I knew good things were coming later in the day so I didn't want to eat a whole donut.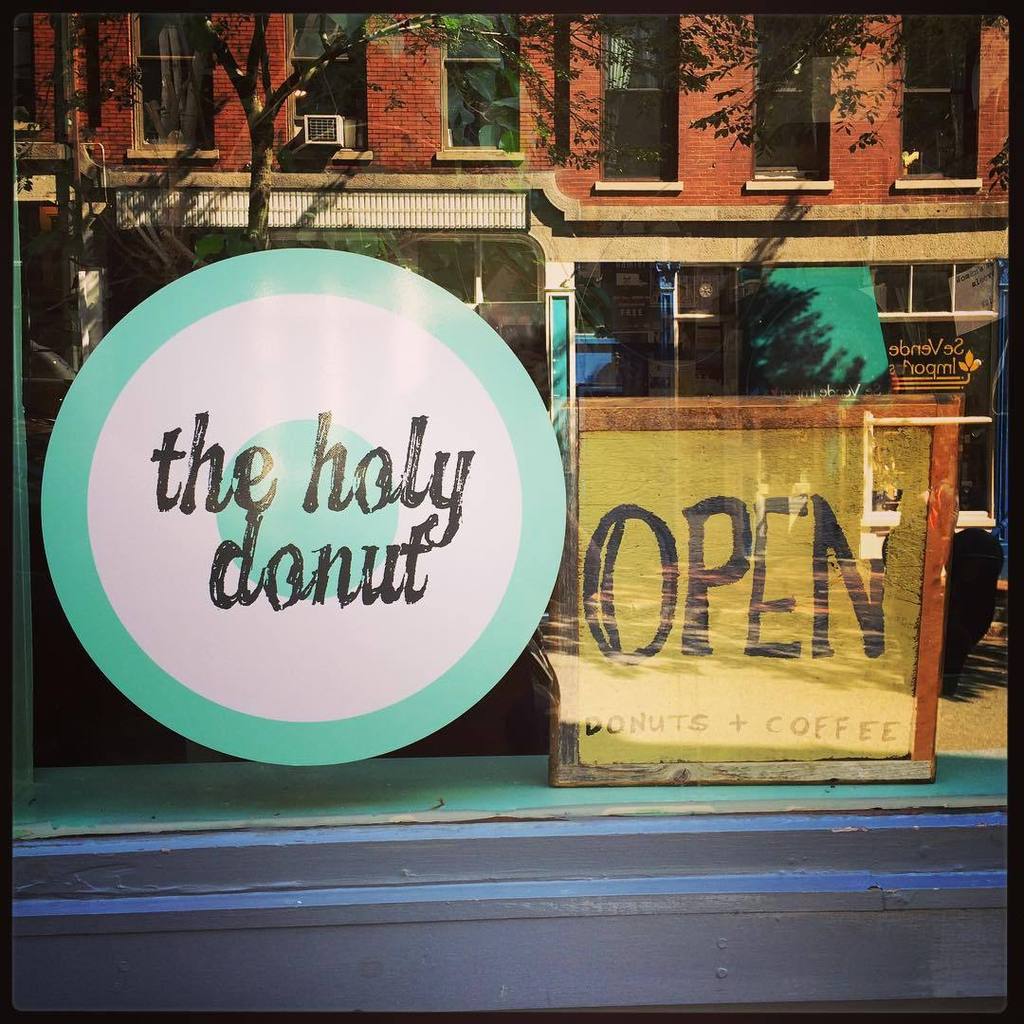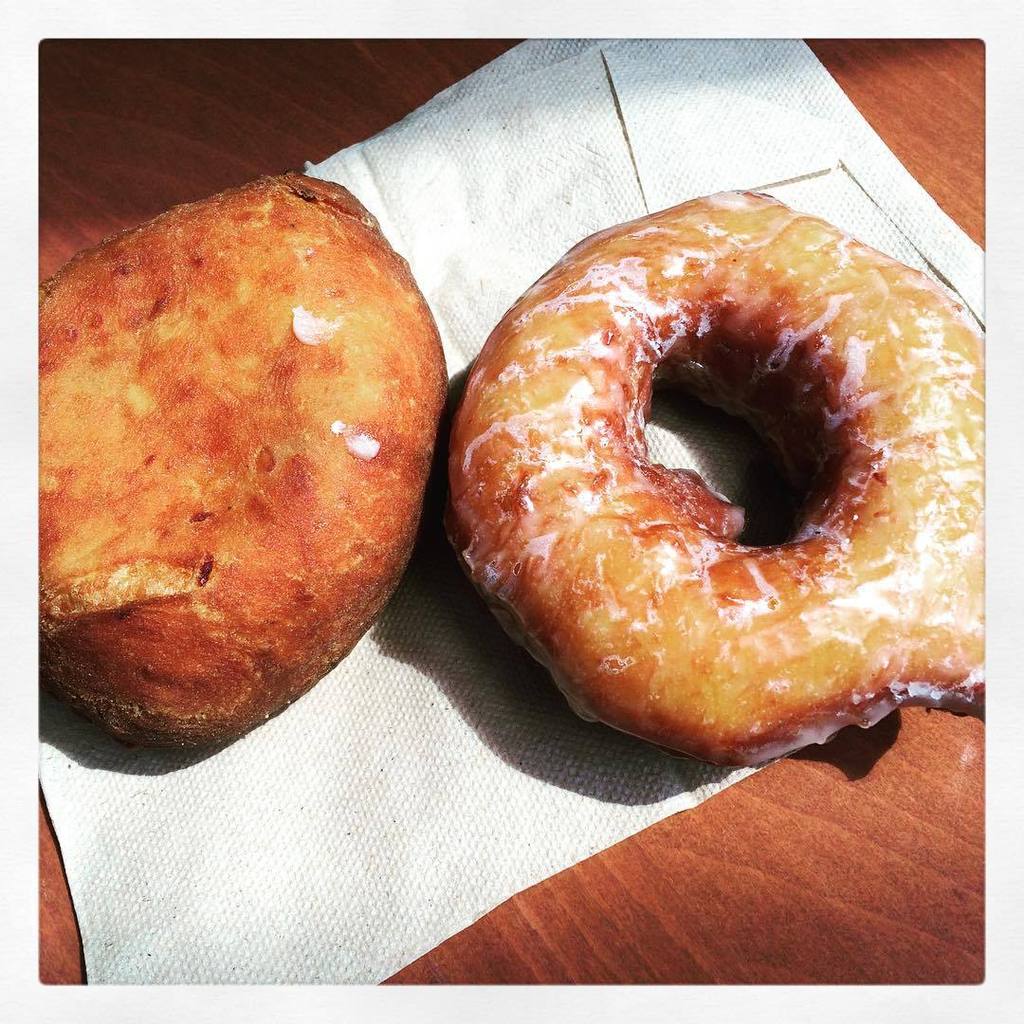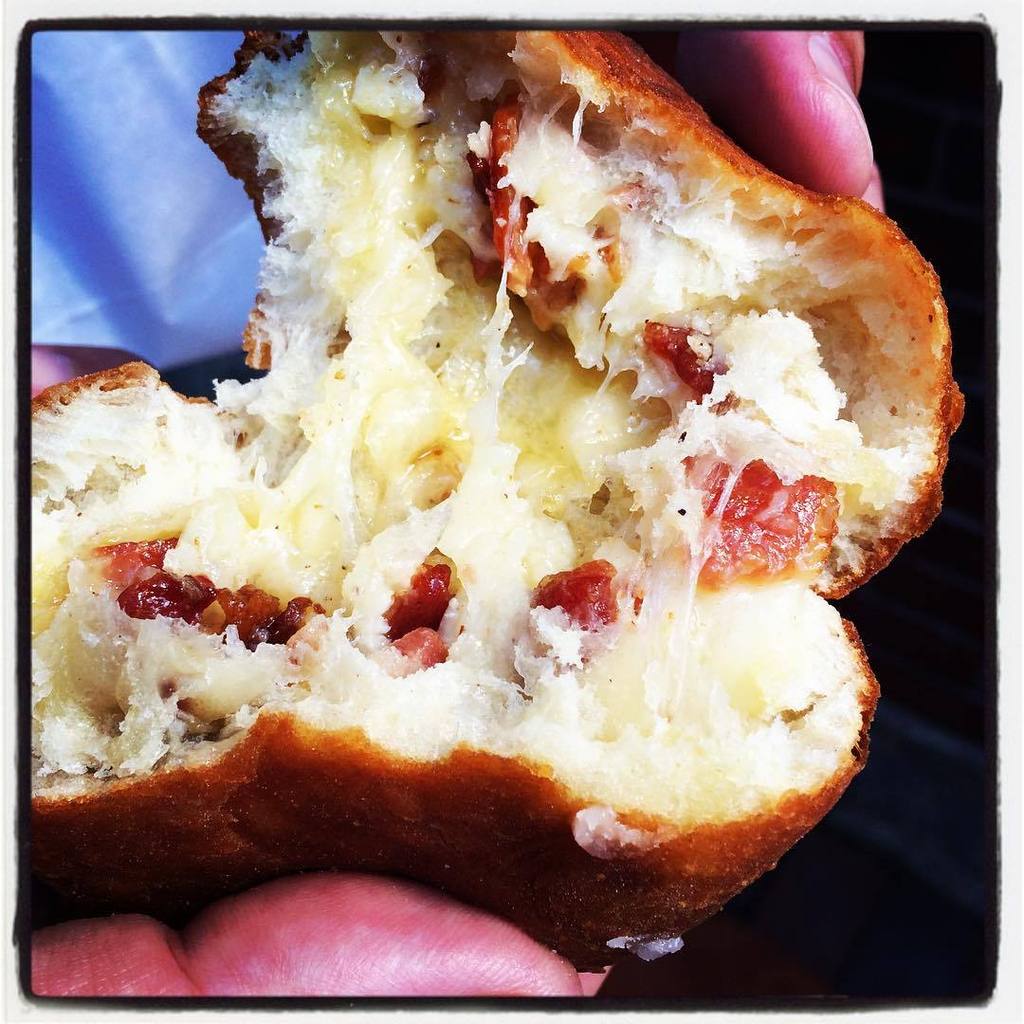 After a few hours, we were a little parched so we stopped at Sebago Brewing Company where Jeff ordered a beer sampler and I ordered a cucumber cooler from the non-alcoholic beverage menu.  The bartender – a smart gal – told me the cucumber cooler is great with a shot of Hendrick's gin in it.  She explained that Hendrick's is infused with a bit of rose and cucumber and therefore was a nice complement to the drink.  Well heck, I was on vacation, so how could I refuse?  She was not wrong…..it was delicious.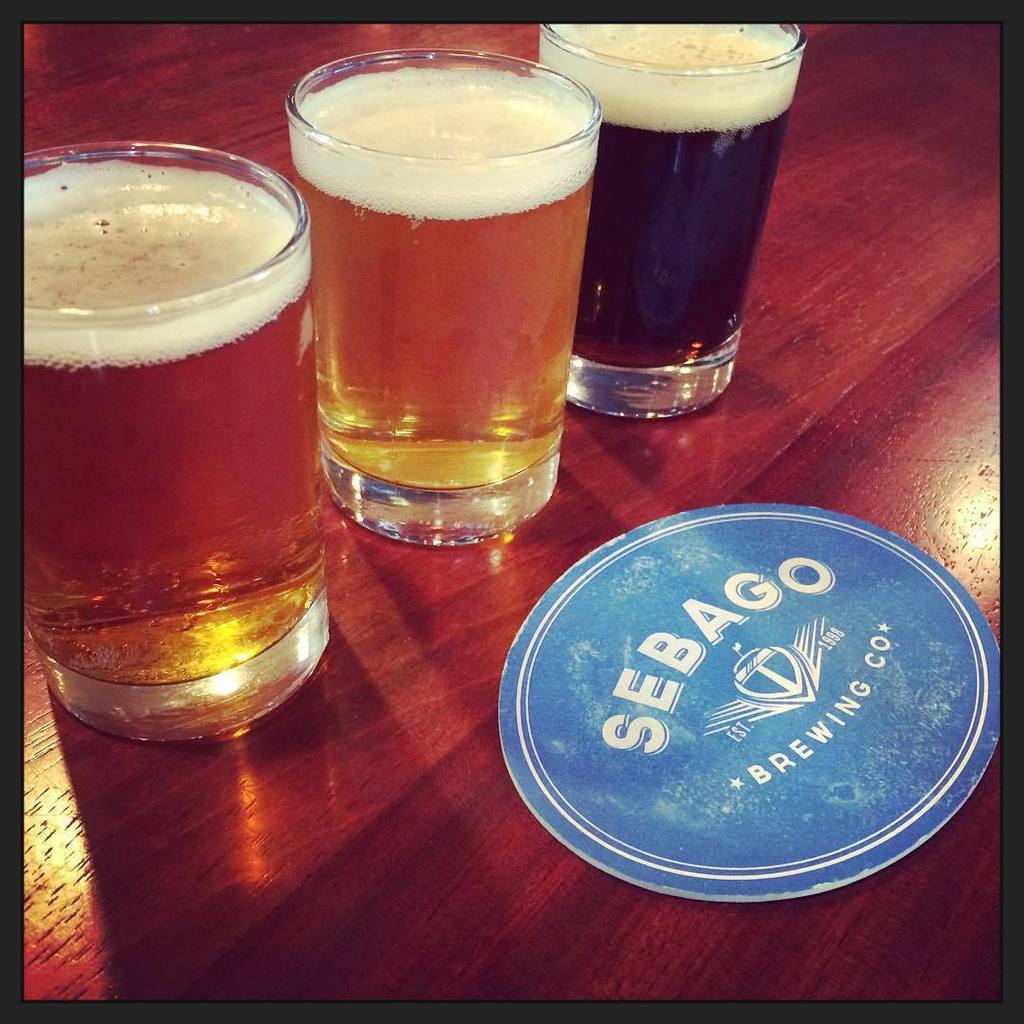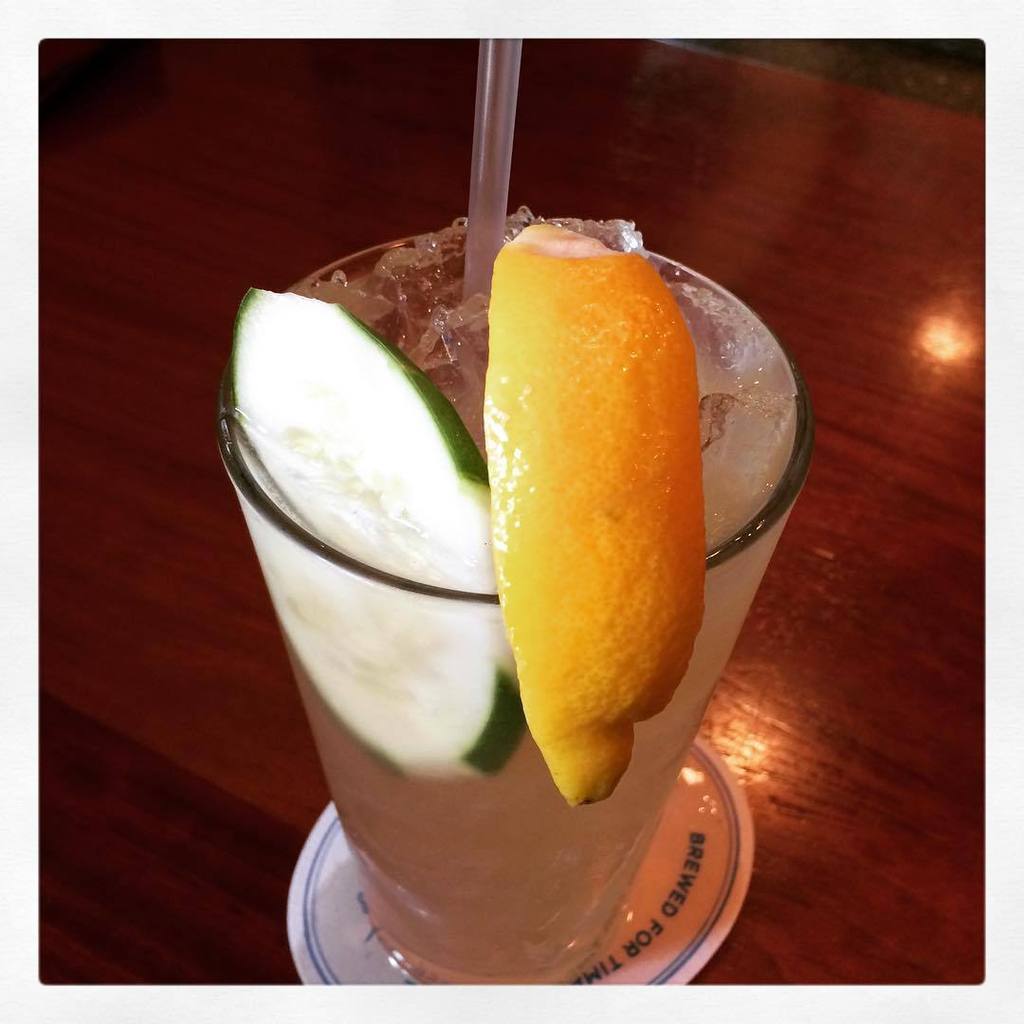 After re-hydrating, we wandered the town some more and then began to think about dinner.  We knew we had to wake up early for our kayaking trip the next morning and we didn't want to be out too late. So we walked back to the hotel where we noshed on some snacks from our cooler, read for a little while, showered and got dressed for dinner.  We strolled through town to The Top of the East (in the Westin Hotel) for a cocktail. Our timing was perfect – the sun was just beginning to set and the view was incredible.  It was a great place to toast 22 years of marriage, which we would be celebrating the next day.  We lingered over our drinks and then decided to find a spot for dinner.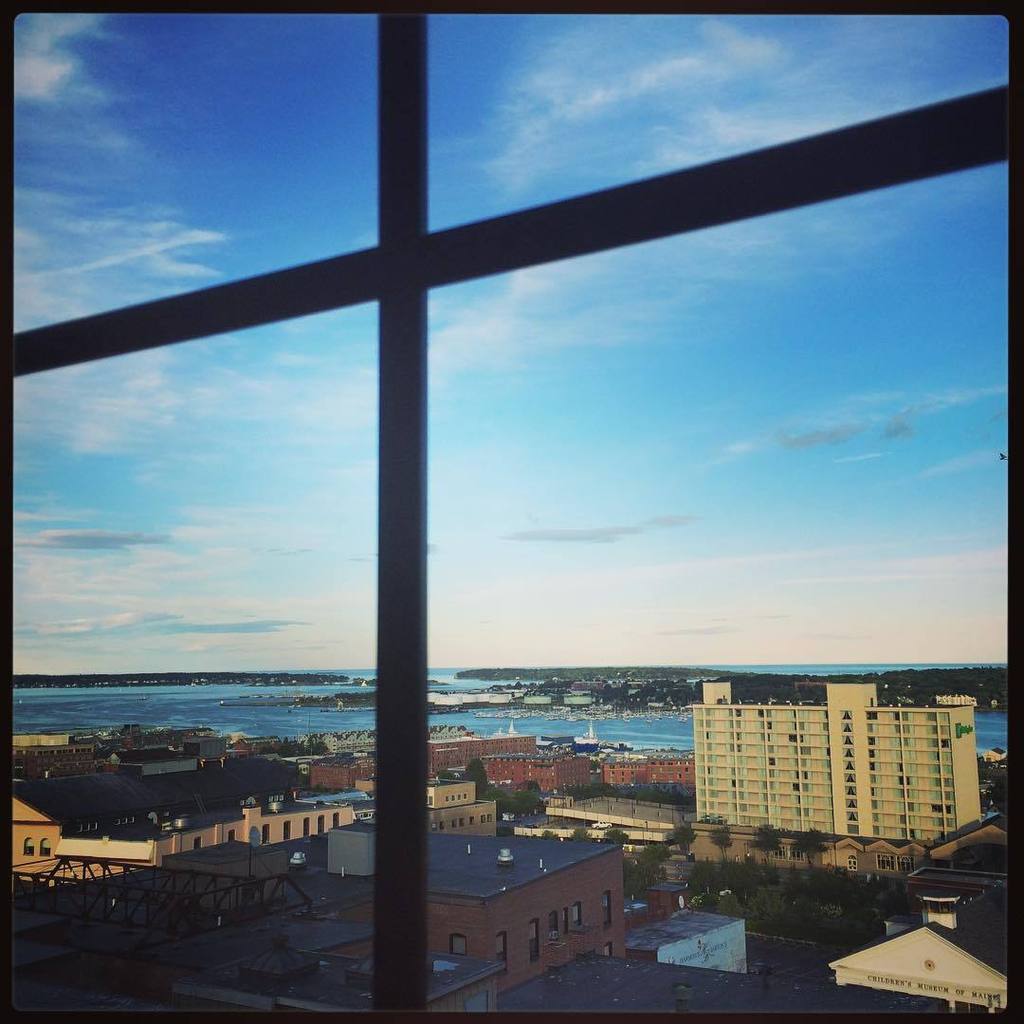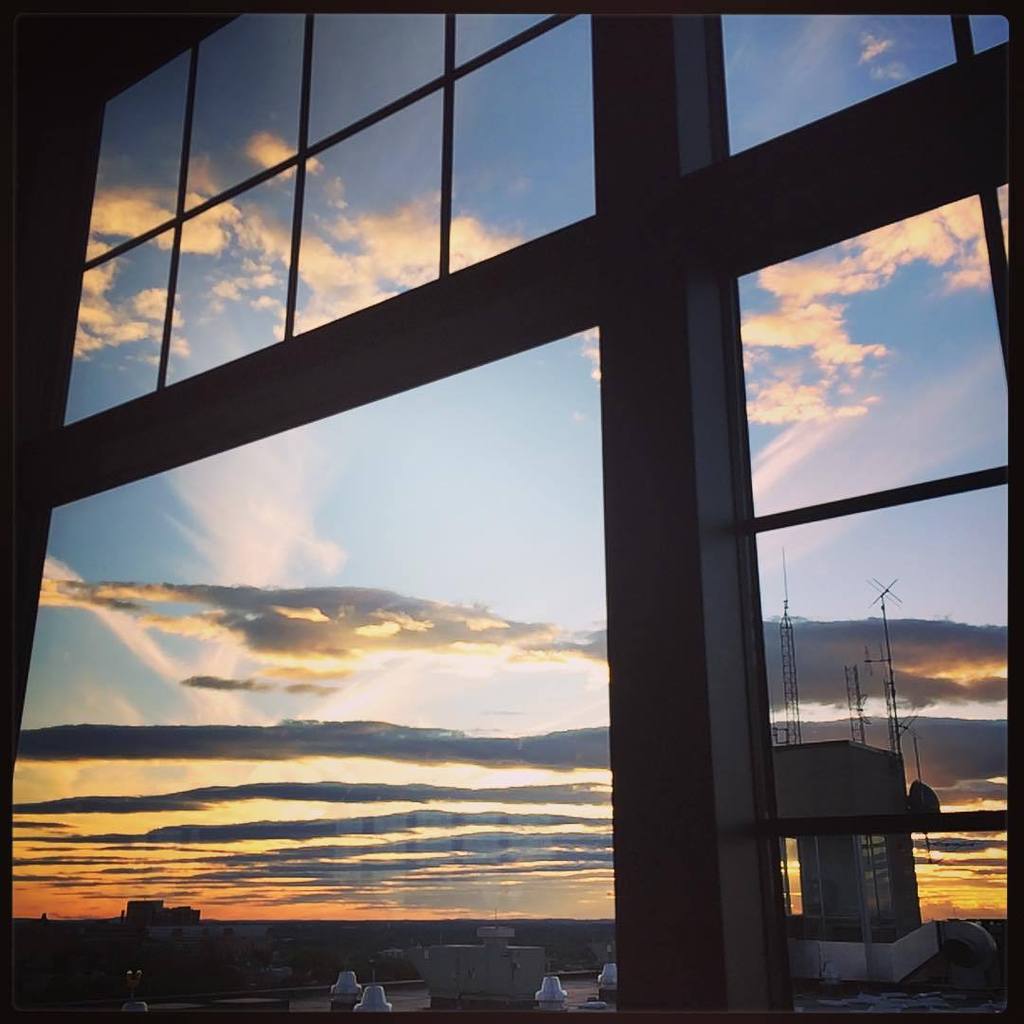 Not knowing what we'd be in the mood to eat, we didn't make a reservation, which made finding a spot for dinner a bit challenging.  But we persevered!  We tried a few of our top choices including Fore Street, Eventide, and Honey Paw – all of which had very long waiting lists.  Knowing we needed to be up with the sun, we opted for The East Ender and were not disappointed.  Jeff ordered a cold-smoked burger which was sensational and I order soup and an appetizer.  The soup was not only delicious, it was also a work of art!  It was Chilled Spring Pea Soup with Parmesan & Pickled Red Onion.  Bright green with spots of pickled onion and a floating cloud of parmesan foam – stunning!  I should have known better than to order the appetizer I chose – Maine Mussels with Ginger & Anise.  While it was good, it wasn't great and I only ordered it because what I really wanted to try was Fore Street's Wood Oven Roasted Maine Mussels with Garlic Almond Butter. A student in one of my recent classes had recommended Fore Street to me and specifically had recommended the mussels.  I should have held out, which is not to say that we didn't enjoy our meal at The East Ender.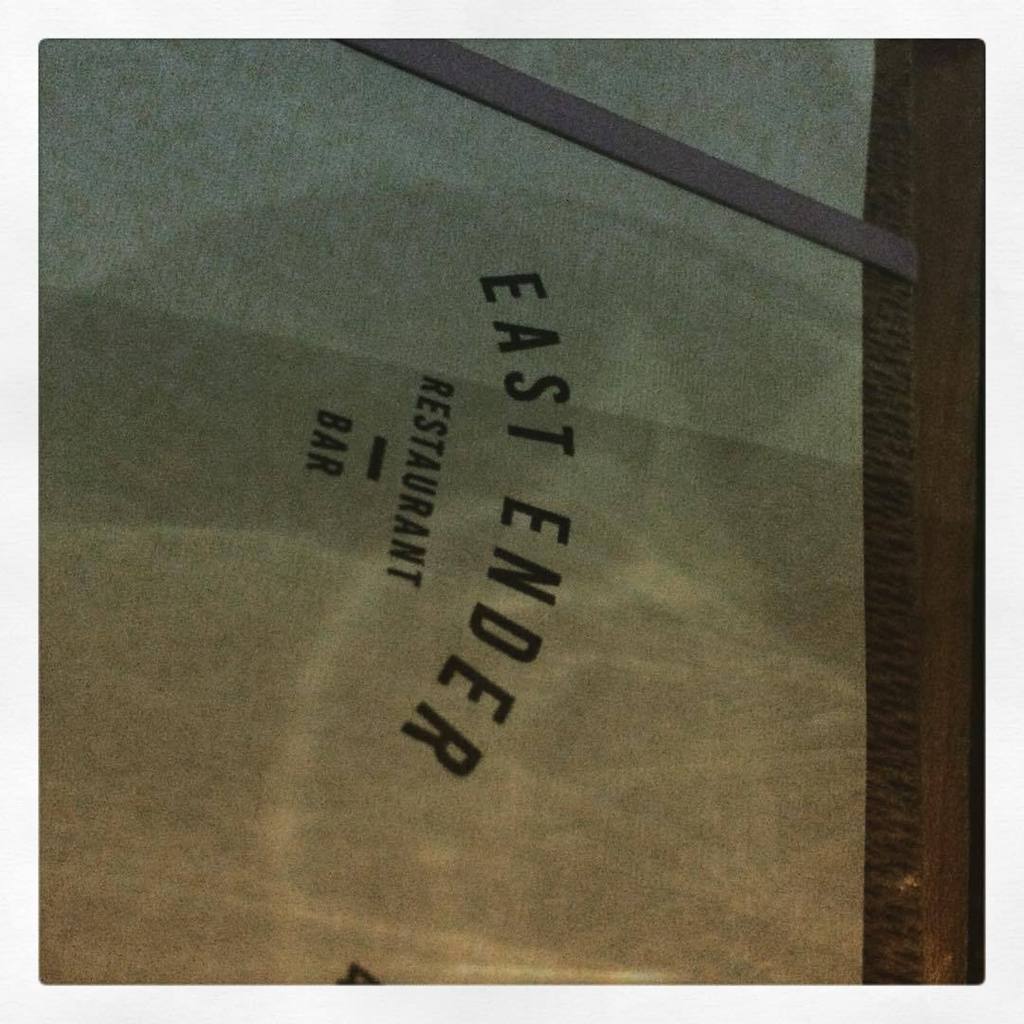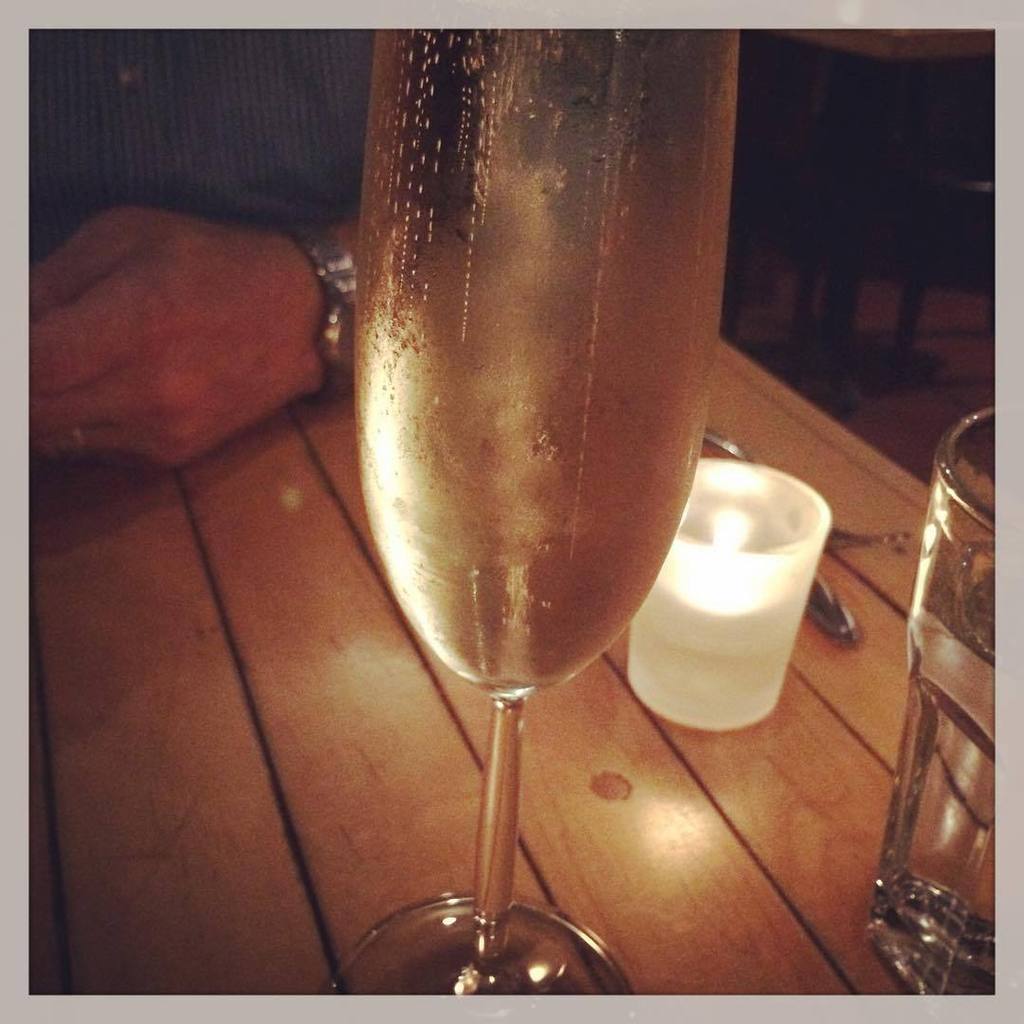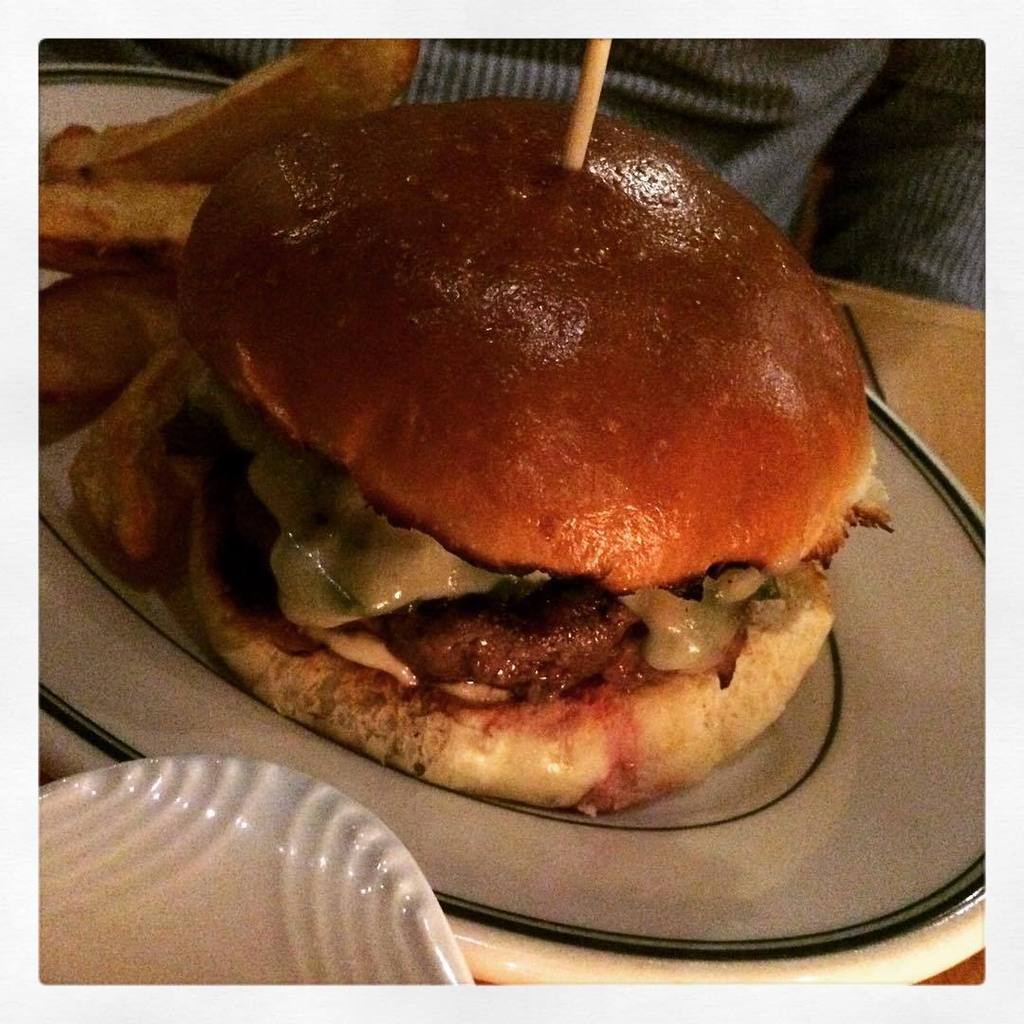 As we made our way back to the hotel, we were tired – both from a long day of walking in the sea air, from the cocktails we drank and from our full bellies.   So we hit the hay and dreamed of being in our kayaks on the bay……